I just finished my prayer and realized that I got this tag from
the beautiful,
Putri Mie.

THE SELF
[01] Real name: Sh. Fatimatul Zahrah [Sh. = Sharifah]
[02] Nickname: Sharifah, Sharif
[boyish, I know that],
Shafaza, Zara
[03] Status: :
Single since 16th August 2007
[04] Zodiac Sign: Virgo
[05] Gender: Female
[06] Age: Born in 1987
[07] High School: SMKTMI
[08] College: UTM
[09] Height: 155 cm
[10] Weight: Ideal for 155 cm
[11] Do you like yourself: Absolutely
[12] Piercings: -
[13] Right or left: Right
[14] Are you a freak : Sometimes, I rather called myself as Lone Wolf
[15] Hair: Black
[16] Skin: Normal skin for my ethnic.
[17] Allergic: None
[18] What are you doing now: Finishing my Assignments
[19] What will you doing 1 hour later: Still finishing my Assignments
[20] What will you doing 10 years later: Working and Studying More!

THE FAMILY
[21] Live with mother/father/parents/family: Family
[22] Siblings(included you): 6
[23] Eldest: Me
[24] Youngest: My Bro, Syed Muhammad Ibrahim [Ayim]
[25] Love/hate your family: LOVE THEM so much! They're my heaven.
THE LOVE
[26] You found your another half:
Previously YES.
[27] If yes, who is he/she:
My First Love
[28]Who you want he/she to be: My Future Husband [not anymore]
[29] Time(s) you in relationship: One [first and last maybe]
[30] Ever woo boy/girl: Absolutely
[31] Anyone woo you before: Maybe
[32] Did anything wrong to your other half: We already broke up.
[33] What was/were the wrong you had done: I Would Like To Keep It As Secrets
[34] Ever argue with your other half: Everybody Did, Trust Me
[35] You with your other half since:
8th March 2006 - 16th August 2007
[36] Are you straight/Lesbo: 100% Straight
[37] Reasons you love your other half: Only Me and God know that.
[38] You and your other half in which stage:
Enemy [woo~Friends only]
[39] You woo he/she or he/she woo you: Accidentally incident
[40] Ever think of marry he/she:
Only when we still in relationship.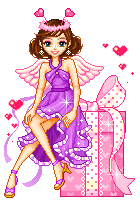 THE FRIENDS
41] Your first best friend: Too Many To List
[42] Your first enemy: No one will ever dare to be like that to me.
[43] The friends you love the most: My Matrix Friends
[44] The enemy you hate the most(1only): Don't Have Lor~
[45] Your most beautiful girl friend: Too Many To List...[wont mention them]
[46] Your most handsome boy friend: Haiz~A lot!
[47] The kind of girl you hate the most: Nobody perfect
[48] The kind of boy you hate the most: Smokers [sorry fellas]
[49] You fall in love with your close friend before: Admire The Talents
[50] Your best friend is your ex-lover: No
[51] If your friend backstabbing you: I'll cry on my bed.
[52] If your friend betray you: I'll pissed off but still cry on my bed.
[53] If your friend woo your lover: You can do if you want, he's not mine anymore
[54] If your friends fall in love with you: Be My Guest if you really know me.
[55] If you fall in love with your best friend: Hurm, quite impossible

THE STUDIES
[56] Are you a good student: Schema, yeah.
[57] You always done your homework/assignments: Of course, sometimes last minutes.
[58] The teacher/tutor you love the most: All of them are the best, can't discriminate them.
[59] Always late to school/college: Nope! At least on time.
[60] Your class: Chemistry, Mathematics, Education Classes
[61] You love your seniors: Of course, selected only I guess.
[62] Senior who you love the most:
My UPPA!
[63] Your classmates good/bad: Good
[64] Excellent result classmate: They all good unless for [65]
[65] Laziest classmate: Someone is in my mind now.

THE PEOPLE
[66] Smart people: All people
[67] Stupid people: I hate that word
[68] Good looking people: Ordinary people
[69] Ugly people: Me and Myself?
[70] Funny people: People who can make me laugh without using stupid jokes.
[71] Cute people:Depends on how my situation there.
[72] Bad people: Cannot be trace.
[73] Honest people: Wise person
[74] Acting people:Baka~lor
[75] You are what kind of people: Hyper-active
THE PREFER
[76] Lip or eyes: Both
[77] Hugs or kisses: Both
[78] Shorter or taller: Middle
[79] Hesitant or spontaneous: Depends
[80] Nice stomach or nice arms:Both
[81] Listener or talker: Talker
[82] Romantic or rich: Both
[83] Good husband or Good Father: Both

THE FUTURE
[84] Age to get marry: I don't have boyfriend lor~ maybe 26-30.
[85] Numbers of kid(s): 3 - 4
[86] Career: Teacher
[87] Salary: Enough To Make My Life Happy
[88] Retirement age: 58 [Government's Rule]
[89] Properties value: All
[90] Wishes: May All My Dreams Come True

THE VICTIMS
I'm too tired to tag anyone today.

Or maybe I should pass this to:
[91] UTOPIA
[92] AKIRA
[93] ECLIPSE
[94] YANIE PUTRAJAYA
[95] RIENA-YUMI
[96] YUMI-CI
[97] EZO [Mr. Top Commentors]