Hi fellas!
Happy weekend!
Sorry because I'm not updating the blog since Friday.
Something wrong with the connection and I'm pissed off with it.
So, I'm gonna update on what I did on Saturday with all of you later.
Currently, need to study for tomorrow's quiz.
The hot and handsome lecturer's subjects.
P/S : I heard that he had a blog and Fotopages.
Gonna surf for it, and if I do found it, gonna tell of you out there.
So, it's the answer for the previous post.
Which one is Zara?
The answer is...
I'm the one on the left.
LOL!
Too chubby whether my cousin which was at the middle was born in January,
and I'm in August. We are peers.
And what my Mom said after she saw this photo?
"You are too chubby just like nowadays. LOL!"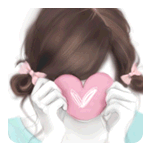 P/S : Gonna update more about my Saturday's activities later.
Wanna check something new from Zara?
Stay tuned pals!
Loves!