iSeanTunes
*Wait For You - Elliott Yamin*

I was listening to some songs when my
Blackish ringing,
it was a message from
Uppa
.

"Darling...I received another Enveluv Card sent by you"
[16:40:00]
I asked him back,
" Owh, really? May I know which one dear?"
[Uppa - 17:04:00]
"It's a yellow one this time. I open it before coming to class just now."

I was wondering which card that I sent to him,
basically because as far as I can remember, I sent bunch of cards to him via
Enveluv.com
It is a
good service daily greeting cards
,
which they send the real cards to people and it's for
FREE
!
But, basically,
only for people in Malaysia.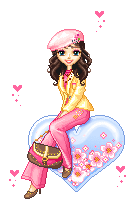 I sent a lot to Uppa just to test whether it is really
REAL
,
and it'd been proved that, Uppa got the real card.
Same goes to some other people as well, they all got these real cards from me.
MLP [my-EX] and Ramesh were some of the recipients.
*Even MLP got the cards from me. Gosh~*

This is the card, I hope it is the right one...
Is this the last card?
Must wait until he can find a new house after he moved to Sabah later.
::The Card That Uppa Just Got From Me::
Do I put my love inside the envelope?