As been asked by some of you here,
due to my previous post on
Bread and Pizzas Workshop
,
some readers want to see the photos from the workshop.
I'm really sorry because I took too long time to fulfill those wishes.
So, here come those photos!
Enjoy it pals!
::The bread that been made by my group::
*I'm the youngest in that group*
::Ready to be bake::
::After been baked::
It's looked nice right?
::The Sweet Mini Pizza::
::The Big Spicy Pizza::
::Well, it's not me who want to be in the frame::
One of the aunt asked me to did this pose.
LOL!
::The products of my group::
*The sweet pizzas were still in the oven*
::This one red-bean bread - I make those::
Not so beautiful, but, still consider as okay...
If you want the recipe,
just let me know.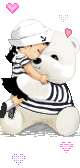 You've been kissed and hugs with Zara's Love!