I've been
blogging for almost 5 months.
I wrote about everything.
My life as a student, as whatever I am.
MLP
.
I knew that some of you make wild guesses who was the MLP.
I just make random posts of him.
He's my history.
He's my
past,
present
and I'm not pretty sure about the
future
.

Some of you who really make crossover of my blog,
already know about him.
I mean,
he was my first love
[
and it's like last as well
].
Please take note that we are not together anymore since
16th August 2007
.
I mean, in term of relationship as lovers.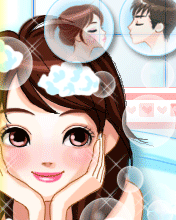 In some tags, I mentioned about him.
Yeah, I knew him via
MySpace
on Ottosan's birthday.
[22nd February 2006]
It took about 2 weeks before we declared as lovers and I never ever knew his
face at that time.
Only him knew my face [I put my photo in my profile].
I should say that this was happened in reality.
In real world.
I met him after 10 months coupled.
We celebrated
our 1st and last anniversary
together.
We met to encourage each other which turned to be our last meeting.
So, basically we only met each other for 3 times.
After one and a half years,
we decided to walk on separate paths.

This is the synopsis.
I'm gonna write more about it.
Why I wrote about this?
Because I'm ready to reveal the truth.
Gosh!
Well, just because some people make speculations on it.
I rather write it down here compare answered it via emails like I did before,
(some of you knew it because you asked),
LOL!
Till then,
I'm gonna continue paint the stories on my
life canvas
.