I hate to write anything right now.
I'm thinking about something else.
I want to kill someone right now.
Yeah, you can say that I'm childish, but that's what I want to do since 10.45 a.m. this morning.
The reason?
You asked for the reason why I want to kill someone that I assume as my buddy?
So-called-buddy?
As I mentioned earlier, I'll be one of demonstrator for a prince today.
You know what happened?
I can't make it in time.
I don't mind if it's my fault, but when another person who make me late,
and missed the chance, the honored chance,
what should I say?
Should I congrats him because he make me late to the important event?
Ms Fatimah called when I'm still in my room this morning.
The Prince schedule was a bit rushing here and there.
So, they changed from 10.30 a.m. to 10.15 a.m.
We as a group members should meet a lecturer at 10 a.m.
We decided it since yesterday.
And what happened?
R called and H was met other lecturer [he said].
We waited for him because the lecturer that we must meet is quite strict.
Ecah time you meet him, you'll get the marks for it.
We don't want him to loss the marks, we waited for him!
The time at my watch was almost 10.15 a.m. and H was not around yet!
I'm pissed off and just knocked the lecturer's door and told him that we want to meet him.
While discussed with Prof. Y, H arrived.
The discussion was finished at 10.40 a.m. and I was ran crazily with my HIGH HEELS and BAJU KURUNG along the way, no matter it the steps, stairs etc!
Yeah!
I'm running crazily!
I met Ila who waited for me at FPPSM.
Pity her waited for me so long.
We arrived at CICT at Unit Latihan something.
I asked the officer in front there.
Zara : May I know where's the MyLine supposed to be?
Officer : The event was over just now.
Zara : What?!
Officer : But, if you want to see the event, it's at that room.
Ila and I went there.
Ms Fatimah saw us.
She went out and met us.
Ms Fatimah : Owh Shafaza, the event was over. I'm so sorry.
Zara : No, I'm the one who supposed to say sorry. It's my fault. I can't make it in time.
Ms Fatimah : I felt bad. You was rushing here whether you are busy.
...and some conversations happened there. Assoc. Prof Khairi saw us. He asked what happened, and Ms Fatimah introduced us to him.
He even recognized me!
Ms Fatimah : This is Shafaza. One of our contributer in MyLine.
Assoc. Prof Khairi : Shafaza? Sh.Fatimatul Zahrah?
Zara : Yes, that's me.
Assoc. Prof Khairi : I'm so sorry that the event is over. We make you came here, pity you.
....and we had some pretty nice conversations there too....
I felt bad.
Yeah, I do felt bad.
Two beloved lecturers said sorry to me!
They said sorry because I missed the event!
Not only them, but the rest of beautiful lecturers there, who always messaged me
via MyLine!
I can't forgive even myself!
I dissapoited Ms Fatimah and Ila as well!
Dude!
I do want to kill you!
I really want to kill you!
I thought you are my buddy but heck, this is all lie!
You are not relevant to me anymore!
Don't become too selfish whenever we gave you chance!
We gave you chance and want you to change!
But each time, you dissapointed us!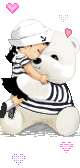 You've been kissed and hugs with Zara's Love!