Hello!
How are you today's fellas?
I miss you so much...

After those previous days who does not allowed me to at least have proper meals and sleep,
I slept a lot last night.
After Maghrib prayer, I thought I want to have a short nap for a while,
but only woke up at 9.30 p.m. and performed my Isya' prayer.

After that, I'm damn tired even to think about other things.
I realized two friends came into my dark room and returned my stuff that they borrowed from me, and I can recall that I talked a bit to them.
When my roommate, Sab came back from studio,
I realized she came in.
...and the rest was just a plain sleep - with a tired and exhausted body.
A blank mind.
It's only me, pillows and blanket.
Sorry to Kimi and Kenny - I'm too flat to hugs them last night.
Woke up this morning with a bit fresh energy and do my laundry.
And while I'm posted this entry, the lazy me was just put my clothes in the washing machine.
I'm too tired to do hand-wash this week.
Sorry.

Anyway, I still have panda eyes.
LOL!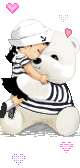 You've been kissed and hugs with Zara's Love!