It's 25th January and I do have 3 persons who will celebrate their birthdays today.
::Ayim::
My nine-year-old Lil Bro!
Such a kawaii boy.
Happy Birthday Ayim!
Happy 9th Birthday Ayim!
::Ady::
My Dynamic Team member.
A good and friendly guy!
Happy 22nd Birthday Ady!
::Seri::
My ex-schoolmates.
I wonder where he is now.
Happy 23rd Birthday Bro!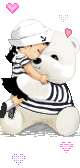 You've been kissed and hugs with Zara's Love!