Remember my baby
Sean
?
Oh come one, some of you wished him his 1st Birthday before.
A good news.
Sean got his first t-shirt.
Well, my baby got a shirt from my lovely sis,
Yuyue-nee!
::Yuyue was giving me the gift, my extremely belated birthday gift::
Simply because I can't stand to know what's the gift,
after I settled some of my job in library, I opened it.
Tada!
::Laptop skin::
...and it's Hello Kitty...-_-"
Never mind, I love it too!
::Sean and The Skin::
::Can you see something awkward here?::
::...and what's the different of these and up there?::
Let me know the answer!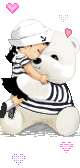 You've been kissed and hugs with Zara's Love!