Yosh!
The seminar that I attended was fun!
The expert teacher who gave the talk was amazing and I can't wait to listen
to her again tomorrow.
Seriously!
::Ejat, Me and Tiqah::
[same ages ..we are peers and bloggers too!]
Well, after the seminar,
I went out with two friends :
Atiqah and Izzati.
They are not my coursemates, but still, under the same Faculty.
We are teachers and bloggers too!
LOL!
::Those photos summarized what we'd done today::
Thanks a lot to both of them.
Thanks to Tiqah for the sweet cakes!
Thanks to Ejat because drove me there.
Hugs!
I miss all of you bloggers!
Sorry because I can't blog-walking recently,
but still, try my best to read all of your posts fellas!

Miss all of you so much!
Miss the blogging world.
Miss my bed.
Miss my Kimi, Charl, Danny and Kenny.
Do you miss me?

I'm going to have the seminar again tomorrow.
For the third session and the closing ceremony as well.
Need to revise for my Organometallic Chemistry as well.
I need some hugs.
Anyone?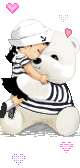 You've been kissed and hugs with Zara's Love!