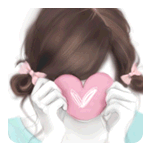 Been tagged by my lovely 2nd Year roommate.
I called this as my
Seven Wonders
.
LOL!
7 characteristics of the guy that I want
- have knowledge of the religion.
- accept me as I am
- lovely
- caring
- honest
- respect me, my family and others.
- non-smoker
*I'm not too good to demand too high*
7 guys that I like or interested in for the whole of my life
[Take note that the list will be become messy later]
*My dad of course, but I'm gonna wrote about the rest*
- My first and last love, MLP *check my History book*
- My best friend when I was in secondary school
- My Chemistry lecturer in matrix, Mr. Aluddin.
- The basketball player in school, LCW
- The Inorganic Chemistry lecturer, Superman.
- The ex - JPP in matrix, Uncle
- My Uppa
- My Dynamic Team members
- Recently, the hot guy in the library, damn smart, but wear toilet's slipper.
7 feelings when I meet someone that I loved...
* Is that mean I need to dig my history?*
- Happy
- Excited
- Joyful
- Sad when need to say goodbye
- Can joke around freely
- Looked at each other while had the meals or sit together.
- Something that can't be describe in my heart.
7 Places That I Want To Go With Him
- Mecca
- Beach *the one which is not polluted*
- Manchester, England
- Japan
- Korea
- Australia
- Sabah
7 Stuffs That I Might Give To Him
- Love
- Faith
- Hope
- Teddy
- Jigsaw puzzle
- Books
- Loyalty
7 Songs That I Want To Sing For Him
- Kau Ilhamku (Man Bai) * already sing this right MLP?
- Terima Kasih Cinta (Afgan)
- Big Girls Don't Cry (Fergie)
- 4 in the Morning (Gwen Stefani)
- Falls For You (Secondhand Serenade).
- Koko Ni Iru Yo
- Soba Ni Iru Ne
7 Friends That Need To Be Tag...
Stop until me...