I would like to wish my dear friend,
Annette
,
OMEGETO
for got through her
French spoken test
!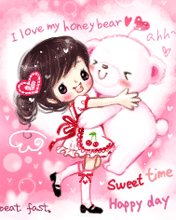 Congrats darling.
Omegeto dear!
She still has 3 tests for it this coming Sunday,
may GOD bless her always.

She's a good girl, a nice girl indeed.
Very talented in music and of course, currently studying Law.
Honey, you really make me proud!
Love ya!
Once again...
félicitations
*its Congrats in French*