I forgot to blogging about this.


Really sorry

, but yeah,
still can blogging about it.




On

4th October

, my cousin's Wati or I called her as
Angah had

engaged with her boyfriend

.
Well, now can be called as her

fiancee

.





It's

my first time

attended

my cousin's engagement.


Yeah, I had 3 more cousins who already married,
but at that time, I'm

too busy

with the studies, exams, etc.,
that make me can't attended their engagements' day.



But, this time,
really felt honored to be among this kind of ceremony.



Even, I had some pretty nice conversations
with

Uppa

because

I did wrongly messaged him

,
make he thought it was my engagement day.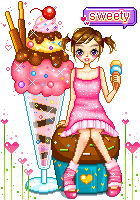 Sorry darling,
sometimes I can't avoid

typo

during messaged.
Love you honey!





He pretty shocked and thought that Mum found a guy for me!
::Laugh::




::Those From Angah to her Fiancee::




::From her fiancee to her::




::Those from her fiancee::

Gosh!
The

Secret Recipe's

cake was damn nice!
Hahaha...



::HAPPY ENGAGEMENT DAY ANGAH!::