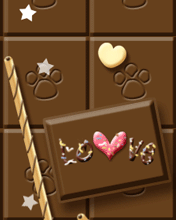 The alarm ringing.
It's 12.00 A.M. right now.
...and I'm still in front of Sean, try to finish up my work.
Oh baby, I love you so much Sean!
**Sean feel really happy because he had 2 new things on his body**
He love it.
Or at least, I guess he love it.
P/S : I called him Sean, but he wore Hello Kitty's shirt.
Poor him. Sorry baby.