I was walking to library this evening with my two buddies.
Blackish was vibrating in my
baju kurung'
s pocket.
I took it out.
It was a called from my beloved lecturer who taught me
Oral last semester, Ms Fatimah
.
::Ms Fatimah is the one which is in red::
After gave Salaam to her, she asked where was me and if I was in the class.
I said No, and she said that she would like to talk to me.
Ms Fatimah : Do you free right now?
Zara : Yes I am.
Ms Fatimah : Are you busy tomorrow? From 10 a.m. to 12 p.m. Please say No, please...
Zara : No, but I do have discussion with some friends. Why Ms?
Ms Fatimah : I need your help for tomorrow. To be one of demonstrators for MyLine. We do have some guests tomorrow.
Zara : Where is it?
Ms Fatimah : In CICT. Can you make it? Why don't you ask your friend to have discussion at CICT?
Zara : I'm not pretty sure Ms. I need to meet my lecturer as well at 10. For my assignment.
Ms Fatimah : How long will it take?
Zara : It won't be that long. I'll try my best. Who'll be the guest Ms?
Ms Fatimah : (randomly - I forgot the exact words) Some of Arabs will becoming to our campus tomorrow. They are interested with our university and one of the things which attracted them is MyLine. So, I need some volunteers to be the demonstrators tomorrow. Please Shafaza. (She called me Shafaza). One of them is the Prince of Saudi who will come with her cousin from University of Medina.
Zara : What? The Prince? OMG! I want to be there! (I'm excited, of course)
Ms Fatimah : According to the schedule, they'll be there around 10.30 a.m. Can you be there before that?
Zara : I'll try my best to finish my session before that time. Who'll be going as well? I mean, any person from MyLine launching ceremony?
Ms Fatimah : Puan AminaBibi already called them and it seems that all of them have class tomorrow. Ady have too. So, some of Second Year's TESL will be there tomorrow.
Zara : Oh, okay.
Ms Fatimah : It'll be good if you can bring other friends who had used MyLine before. How about Azila? I saw she posted some in there too. Try ask her as well.
Zara : I'm not pretty sure if she'll be available tomorrow, but I will ask her.
Ms Fatimah : So, may I count your name in for tomorrow?
Zara : Sure Ms. I'll be there for you. Hehe…
Ms Fatimah : See you tomorrow in CICT, Shafaza. It'll be at the Ground Floor. Salaam.
Zara : Insya'Allah Ms. Salaam.
There were my conversations with her. Do I seems excited?
Yes I am.
I feel honored with the invitation.
…and right now, I'm struggling hard to complete my assignments that I want to show to my lecturer tomorrow. It'll be a critical moment but I know, it's a must. So many words to write, so many things to be cover but I pray that I can do it.
Be one of demonstrator in front of a Prince?
...and his not a Malaysian anyway.
When I'll get the same chance?
Only God knows.
…pray for me pals.
::Without these two fellas, so sad::
BTW, I already sent the text messages to Lorince.
It seems that he can't be there too.
He have class from 8 a.m. to 1.00 p.m. tomorrow.
Haiz~
Without him and Ady, it'll be slightly bored.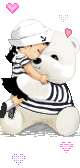 You've been kissed and hugs with Zara's Love!