This is the first award for this year.
Yosh!
At last, I got an award this year, and I'm still not create any other award for this year.
Sorry pals, a bit busy.
Please forgive me ya?
This award is from
Ochie
.
Thanks a lot Ochie.
It's time to spread it to the others.
I'm gonna give it to other bloggers who read this post!
**Captain Luffy, Kak Yanie, Kak Tirana are those bloggers who compulsory to take this. The rest must grab this too**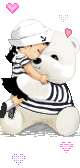 You've been kissed and hugs with Zara's Love!