One of my beloved
Senpai
is in Borneo now.
It's so lovely to receive any messages from him.
Cheer up my day.
Last night, while I printed all my notes for today, the Blackish beeping.
Beep Beep...
"Zara darling. Still awake? How are you? Still taking pills?"
Gee!
I'm not a drug-addicts Uppa. How come you said like that?
Remind me that CWC called me a
trafficker
for it too. Gosh!
"Uppa dear. Yup! I'm here. Doing good, and of course, I'm not taking pills anymore. It happened on Monday. I mean, it's just pain-killer"
For some reason, people thought that I'm a drug addict because of the pills.
LOL!
It's a premenstrual pain-killers pals!
"
O...glad to know that. Dear, I want to tell you something. It happened this morning.
I felt shy a bit."
Sounds interesting.
"What is it Uppa? Something wrong?"
"Yeah...I was in .............when it happened........"
*Too private to mention it here...hehehe*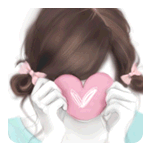 P/S : I have class with handsome and hot lecturer this morning. Can't take my eyes on him.
LOL! Spectroscopy, here I come!