Last night,
when I had my dinner with the girl next door,
someone knocked her door and went into her room.
There's a sweet girl tried to sell something to us.
We get used with some stuffs like perfume, shawls, veils, foods and so on,
but last night, the unknown girl tried to sell cupcakes.
Yeah, I do love cupcakes.
Since I knew that I don't have much time to try it out,
one of my lovely friends is really awesome in making it,
so, I always asked him to make it for me.
LOL!
So, here the cupcakes!
::I love the color of the ribbon::
::It's so cute, the cupcakes are reddish::
:: They put the blog URL and the phone number::
The girl asked me to buy this for my boyfriend.
I told her, "I'm single dear".
But, I still bought it.
Simply because it looked so cute.
LOL!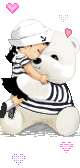 You've been kissed and hugs with Zara's Love!