Today is
22nd January 2009.
I got the messages that all the students in my campus should wear
BLACK ATTIRE
today.
Yeah.
It's due to the
Palestine's issues
and we gonna show some concern due to it
by wearing the black attire.
Not pretty sure what the others will wear,
gonna check it when I go to the class.
So, fellas, what about you?
Let's wear black!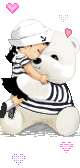 You've been kissed and hugs with Zara's Love!