Yosh!
It's 26th February 2009.
I just want to wish my beloved cyber-friend,
Mr. Pali
,
a warmth Happy Birthday!
Dude!
Happy 22nd Birthday Dude!
May God bless you forever and always!
Thanks for always help me when I faced problems and make my Sean become
more efficient.
P/S : Happy Chinese New Year to all of you!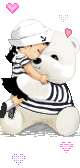 You've been kissed and hugs with Zara's Love!