:Sweet Tag For Zara's Visitors::
It seems that been ages I don't reward anything for my fellow friends here.
So, with the new year and many things happened that we've been share together,
I do hope that all of you will have this Tag From Me.
It's just a simple thing that I can dedicate to all of you.
Maybe it's not really nice, but, I feel honored if all of you grab this.
It's a New Year from Zara's blog for you!
The Cute Tag is just for all you!
Thanks for being my friends whether in reality or blogsphere.
If you are of my
friends, visitors, readers,
and much more,
even people in my neighborhood,
you can just grab the tag there.
No need to answer anything, just share my love to all of you!
Hugs!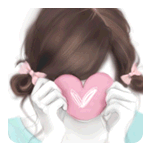 P/S : Uppa just messaged me. Thanks to the person who invent the technology!
The lovely things from Borneo can be sent and transferred to South of Malaysia in less than 2 seconds. Miss you Uppa!