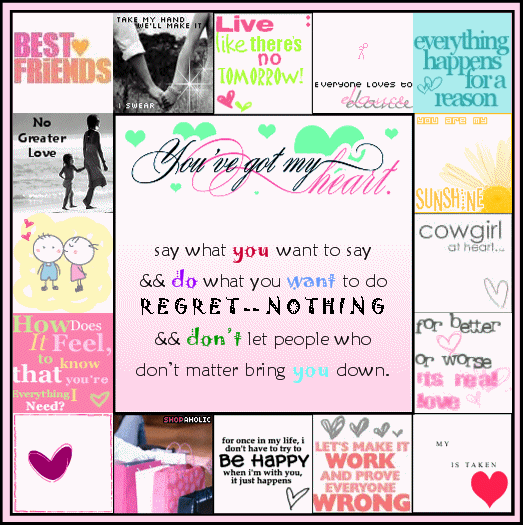 1. Hi how are ya?
Salam [Peace be upon you].
Yeah, I'm good and you?
2. Hey! You wanna go to the mall?!
Why should I?I already went there yesterday.
3.I LOVE U..
I Love You Too...
*but we're not meant for each other*
4.DO u want some cookies?
Sure, but make sure you don't put any spells in that.
5.Can you take me a picture?!?
Huh? What for?
6.Help me in my homework!
What the heck? I thought you already work, assignments perhaps.
LOL!
7.Here's my gift to you…
Are you sure it's for me? Not for the other girls?
Thanks a lot dear.
8.Let's just be textmates
Sure, you are my Active 10, so, it won't cost too much.
9.Do you want me to buy you an ipod?
Sure, if you're willing too. LOL!
10.Let's sit together in the bus
Hurmm, sure...but I want to sit next to the window.
11. Hi baby ..
Hi darling...what's up?
12.You still cute!
If I'm cute, why you left me and grab other girls?
13.I still LOVE you!
Me too, but, too much obstacles for us to be together.
14.Can I visit your house?
Sure, anytime you want.
15.Do you love me?
Yes I do.