Yosh!
At last already back in my room.
A bit tired today, and consume a lot of pills (
even in the class just now
)
I know that it's not good, but what can I do?
I need to attend all my classes by hook or by crook.
But, it's okay, I'm get used with the pain every month.
LOL!
So, I had 2 chemistry classes today, but for Spectroscopy, we had two classes.
At 8 a.m. and 11 a.m.
Simply because we don't want any classes on Friday.
Since the lecturer is a
handsome, cute, excellent, awesome, single (

but already engaged

) young man,
it's not a big deal for us.
Futhermore, he's funny!
(
At last, we managed to get his phone number - copied it down when he put his pendrive at the PC. Of course, without he knowing that.LOL!
)
By the way, I like his style.
He started the class with something leisure.
Talked about books that he read, and today, he talked about
"The Last Lecture" by Randy Pausch.
[click
here
for more details]
It's a good book anyway.
I read it once, and I found it's really interesting.
Unfortunately, the book was not mine (
I borrowed from a friend
).
The other one was Organometallic at 10 a.m.
It's seems fun, more to Coordination chemistry that we learn last semester.
The lecturer is good as well, a lady.
I love the way she'd explained the facts just now.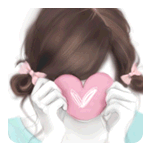 I'm not in mood to consume anything for lunch.
It's all due to the pain I guess.
Plus, I already ate a piece of egg
"roti canai"
for my breakfast.
So, I'm still full.
Went to the cafe with some pals.
I just bought this kueh for my lunch.
It's called
"kueh lopes"
if I'm not mistaken.
::My kueh lopes - my lunch for today::
It's been made from glutinous flour.
It's a Malay traditional dish and it's really nice.
For more info, you can click
here
.