I went back from giving a talk to realize my
chat boxes had some notices.

One of them came from
A Q R A M!

This boy is a good guy,
being friend in this blogging area!

Thanks for this Award A Q R A M!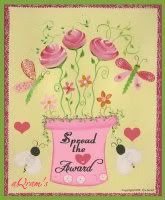 Info about this award
This award is for those bloggers who are nice people. Good blog friends and those who inspire good feeling and inspiration also for those who are a positive influence on our blog world.
Once you've been awarded please pass it on to others who you feel are deserving of this award..

And basically, I want to dedicate this to :
Spymama
Eunice
Angela
Qasih
Laxmana
Tara
Kak Yanie